Food additive propylene glycol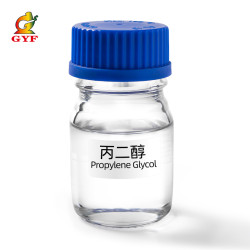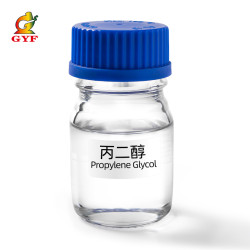 | | |
| --- | --- |
| Categories | food additives |
| Brand | GYF |
| appearance | Colorless, viscous, tasteless and odorless |
| MF | CH2OHCHOHCH3(C3H8O2) |
| CAS No. | 57-55-6 |
| EINECS | 200-338-0 |
| Grade Standard | Food Grade, Industrial Grade, Reagent Grade |
| HS Code | 29053200 |
| Purity | 99.7%min |
| Application | UPR, fiberglass/antifreeze |
| Moisture | 0.08% max |
| Distillation range | 183-190 C |
| Density(20/20C) | 1.037-1.039 |
| Color | 10 MAX, color less transparent liquid |
| Refractive index | 1.426-1.435 |
| Other Names | PG |
| FOB port | China main port |
| Terms of Payment | L/C, D/A, D/P, Western Union |
| Update Time | June 8,2023 |
Range of application:
It can be used as a solvent for flavors, spices and food pigments, food packaging softener, food anti-stick agent, mildew inhibitor, fruit ripening preservative, antifreeze and heat transfer medium, emulsifier, etc.
• It can also be used as a solvent for food marking ink in lubricating oil of food processing equipment.
• Can be used as moisturizing agent in the daily chemical industry.
Features
• Propylene glycol content of 99.5% or more, less impurity peak, the use process can exclude other side reactions to provide higher stability, enough to meet the needs of customers, and obtain customers widely praised.
• Food additive propylene glycol has better moisture absorption and frost resistance.
Range of application
Packing and shipping
• Galvanized iron drum or plastic drum packaging, specifications can be divided into 25kg, 200kg, 215kg.
• Or according to customer requirements.
 Safe storage
• Store in cool, ventilated place, the temperature should not exceed 37℃, the relative humidity should be controlled below 60%.
• Should be separated from oxidizer, reducing agent, acid, etc., do not mix storage, keep the container sealed.
• Keep away from ignition and heat sources. Do not use mechanical equipment and tools that may cause sparks.
• The storage area should be equipped with spill response equipment. When stacking storage, the bottom layer should be equipped with cushion layer, and the stacking height should not exceed 2 meters.
Please send your message to us